Top cave-dweller-themed activities
Cave-dwellers are a typical curiosity of the Saumur valley. Atlantic Loire Valley has plenty of chances for visitors to experience this underground world for themselves.
Get the full cave-dwelling experience in the village of Rochemenier
Head to Rochemenier and delve into a previously unknown underground world. At the Rochemenier Cave Dwelling Museum, you can explore two former lowland cave-dwellers' farms complete with living areas and outbuildings. Ready to step back in time?
Let your feet lead you to a 13th-century underground chapel, a subterranean chicken coop, and the most recently excavated parts unearthed in the 20th century. The history of the cave-dwellers will unfold before your eyes, and you'll become an expert on 19th-century peasant life.
And to help you make the most of your visit, you can take a guided tour or grab a tablet with interactive content – something children in particular will love.
A visit to Rochemenier is a chance to reconnect with time-served expertise. There's also a film for children, entitled Conserver & Transmettre, that explains more about the farming tools and machinery on display in the museum. And the village looks truly magical at night, with shadows projected onto the walls.
The museum is a bridge between past and present, painting the world of the cave-dwellers in a whole new light with escape room games, a murder mystery party, an evening story-time session, and family-friendly workshops. The museum is one of Atlantic Loire Valley's best-kept secrets. It's a vibrant, friendly place with fun, exciting new events every year that will have you coming back to this underground world for more.
Good to know: two-hour private "VIP" tours are available, with a welcome drink on arrival.
Everything you ever wanted to know about mushrooms
The Mushroom Museum is much more than a mushroom farm. It's a truly unique underground experience where you'll learn everything there is to know about everyone's favourite fungus. The museum in Saint-Hilaire-Saint-Florent, just a stone's throw from Saumur, is dedicated to the art of mushroom-growing.
Step into this mysterious world and get the full authentic experience. Each year, the farm produces 10 tonnes of mushrooms growing in complete darkness at a constant temperature of 13 degrees Celsius.
The tour is divided into two parts. You'll start with by exploring the mushroom farm, where 12 different varieties are grown. Then you'll head over to the wild mushroom museum, with around 400 different species waiting for you underground. Most of the mushrooms are genuine wild varieties that have been domesticated to sustain their life cycle.
The October festival is a real highlight at the Mushroom Museum, when everyone brings along their own mushrooms picked from the woods. The museum puts on a temporary exhibition showcasing the samples brought in by enthusiasts.
And there are more cave-dweller-themed attractions nearby, including the Pierre et Lumières site just a few hundred metres from the museum, and the Jardins du Puygirault, which opened in 2018 (two- and three-attraction tickets are available).
Good to know: children can take away a little kit they've made themselves during their time at the museum, containing everything they need to grow common mushrooms at home. It's a great way to nurture a love for mushroom-growing!
La Sablière cave-dwellers: from "falun" rock to contemporary art
La Sablière is a truly unique place that you can only visit if you book a guided tour. The small-group tours are a great way to soak up the atmosphere, where art grows as fast as the mushrooms!
La Sablière is a lowland cave-dwelling site. The entire site is underground, with no evidence of its existence on the surface. Beneath the ground is a 60 metre long gallery standing testament to a century of sand mining and contemporary art.
VThe site was chiselled into the rock by Mr Grégoire, who owned and operated it between 1900 and 1950. The extracted sand covers the surrounding fields and was also used in nearby cemeteries and gardens!
A knowledgeable guide will take you on a tour through the gallery, passing through the cave-dweller's home and the "La Tonnelle" café run by his wife. Younger visitors will particularly appreciate the fossil collection.
La Sablière was abandoned and bricked up when sand mining operations at the site came to an end. The new owner brought it back to life in 1993, driven by a passion to bring the art of rose distilling to a new audience. The owner installed an alembic and began producing the first batches of rose water.
La Sablière also opened its doors to artists 10 years ago. A new sculpture is chiselled into the fine "falun" rock each year by talented artists, creating pieces such as a shark, a bear, a phoenix and a wall of roses.
Good to know: the new rose water distillery, 800 metres from La Sablière, is also open to visitors.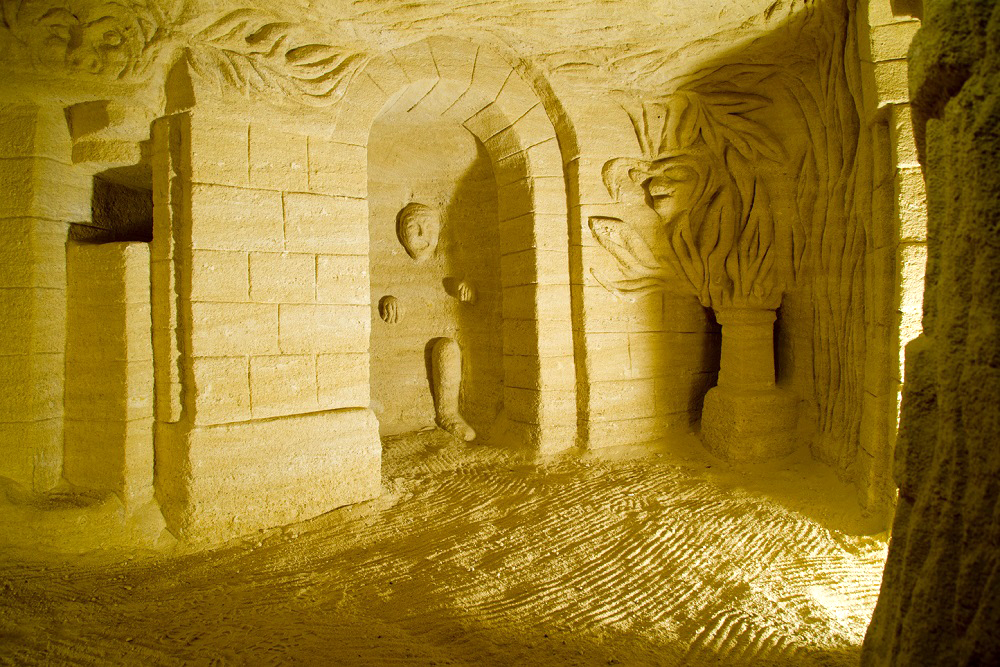 Take a seat at Les Nobles Fouées
Head to Les Nobles Fouées in Saint-Hilaire-Saint-Florent near Saumur for a unique dining experience. The restaurant, housed in a former cave-dwellers' cave, serves up a local speciality: fouée.
Fouée is round, airy bread baked in a wood-fired oven and eaten hot. Simply irresistible! The head chef has concocted his own twist on this traditional bread dish, serving it straight out of the oven alongside rillettes, foie gras, mogette beans, warm goat's cheese or even smoked salmon.
Les Nobles Fouées is perfect for big groups who want a great meal without the fuss. It's ideal for families or groups of friends looking for a unique underground dining experience. The place boasts a warm, welcoming atmosphere and serves up uncomplicated, hearty dishes. The restaurant is well-heated, but it's a good idea to bring something warm to wear because, at 15 metres underground, the air is somewhat humid and cool.
Les Nobles Fouées holds bread-making workshops for children every Sunday lunchtime, where little ones can make their own fouées before tucking into their meal. They get to dress up for the occasion and work up an appetite before lunch!
In the evenings, the restaurant transforms into a music bar for the older ones, playing tunes from the 80's to the present day!
Good to know: in Summer and Spring, the restaurant is open between Wednesday evening and Sunday lunchtime, and by reservation on other days. It's extremely popular, so it's a good idea to book a table at least a week in advance in July and August.
Step back in time at Troglodytes et Sarcophages
Troglodytes et Sarcophages is a tourist attraction around 20 km from Saumur. The underground site houses a refuge, a chapel dating from the Middle Ages, "cathedral" caves, a sarcophagus-cutting site, a farm and a wine cellar. In other words, it's a glimpse into the lives and accommodation of cave-dwellers since the 5th century.
Doué-en-Anjou is also known for its sarcophagus-making tradition, with more than 25,000 sarcophagi cut from the "falun" rock in the Merovingian era. Archaeologists have reconstructed the process by which these stone coffins, each weighing around a tonne, were extracted, manufactured and lifted.
Take a guided tour to learn more about the techniques, and to gain a broader insight into how people lived and worked underground over the centuries. This unusual site is a listed historic monument.
In summer, you can enjoy the experience well into the evening with night-time tours telling the tale of the Mystery of the "Faluns". You can also try your hand at a traditional local sport with the Fort Saint Pierre boules club. And if that's not enough, you can also take a tour by oil lamp or taste Anjou wines on a summer's evening.
Good to know: Troglodytes et Sarcophages is on the La Loire à Vélo cycle trail network, making it easy to get to for cyclists.
The mysterious Cave aux Sculptures
The Cave aux Sculptures is a sculpture cave around 20 km from Saumur. It remains a mystery to this day, even for archaeologists. Who was responsible for these talented sculptures carved into the tuffeau rock walls? In what century did this carved "comic strip" appear? What message were those responsible trying to leave for future generations?
The cave art site in Dénezé-sous-Doué likely dates from the 16th century. It is striking to look at, with dimmed lighting illuminating the sculptures in the round. Everyone can interpret the images differently. And that's what make this place,– and art in general, so magical!
The frieze makes for a baffling underground exhibition, complete with laughing facing, grimaces, naked bodies and strange creatures. It's a portrait gallery to behold!
A guide will accompany you as you admire the underground artwork, answering any questions you may have. This centuries-old work of art is sadly under threat because it is so difficult to preserve cut stone in humid conditions. Just like prehistoric cave drawings, it is disappearing before our eyes because it is so fragile.
Children are welcome to explore this mysterious underground cave. There's a special booklet for little ones, who can embark on a treasure hunt with an accompanying adult. And on summer evenings, there are candlelit tours with a guide telling stories and tales. It's a truly timeless underground experience.
Good to know: the sculpture cave is one of the top priority sites for the "Heritage in danger" mission led by Stéphane Bern, which aims to restore and preserve this unique heritage.
A UFO in Atlantic Loire Valley: the Hélice Terrestre
Some artists leave an indelible mark with their work. One such artist is Jacques Warminski, the sculptor behind the Hélice Terrestre, a UFO on the landscape. Harbouring nostalgia for his childhood in the village of L'Orbière, he decided to buy up abandoned cave dwellings to house his future artwork. He then took four years to complete his monumental masterpiece, in a small village between Angers and Saumur.
The giant creation, consisting of two intertwining parts that complement one another, will not leave you unmoved. The artist began working underground, painstakingly carving out the stone, before continuing on the surface. And the fruits of his labour are here for you to admire, emerging from below ground and extending out into the open.
It's certainly a head-turner, playing with light and shade and peaks and troughs to give a glimpse into the artist's mind.
Although the man behind the Hélice Terrestre is no longer with us, the piece remains a living, breathing work of art. It plays host to resident dancers and sculptors, and is the stage for both organised and improvised performances. That's what makes the place so magical!
| | |
| --- | --- |
| | |
Spend the night in a cave at the Logis Troglo du Vigneron
Since the dawn of time, the people of Saumur have been extracting stone from the hillsides to build some of the finest châteaux in the Loire. Over time, the quarries were turned into wine cellars and dwellings.
This unusual site in Parnay, 4 km from the Château de Montsoreau, will wow you with its charms. The warm welcome offered by the owner sets the tone. This is a peaceful place off the beaten track, where you'll feel right at home.
The former wine cellar, dating from the 18th century, has been turned into something truly unique – a self-catering property with all mod cons, from a fridge to Wi-Fi internet! This spacious cave dwelling is perfect for couples after an unforgettable romantic getaway, or for a small family looking for a unique break in Atlantic Loire Valley.
Each room is a sight to behold. The lounge is a former wine cellar, the bedroom was once a press room, and there's another lounge with a grand fireplace. All the furniture is custom-made to make you feel right at home and to fit with the unconventional layout of the space.
This self-catered property has been awarded the "5-star gîte" label– a great recognition for the cave-dwelling world. Come and experience it for yourself on a weekend or week-long stay in Anjou.
And the icing on the cake? There's a real surprise in store – a jacuzzi tucked away at one end of the property!
You can also find out about...